WOODSHOP NEWS Issue April 2020 – Martin T75 PreX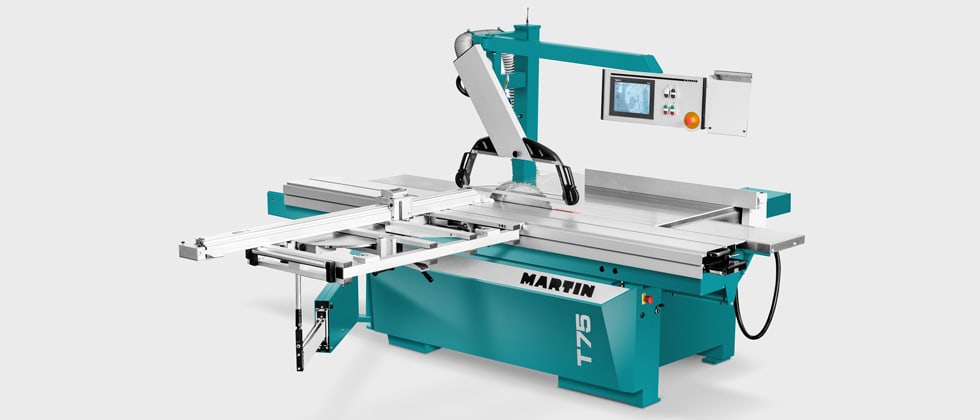 These units have permanently lubri­cated bearings and Acme screws. The F1 hy­brid ($999) features low noise and vibration, a 1.5-hp 110-volt motor, cast iron table and 30" precision T-fence. The F2 ($ 1,399) has a cabinet-mounted trunnion, and the F3 (which has an optional 52″ fence) has a cast-iron trunnion, upgraded handles and miter gauge, an outfield table that is equipped with double miter slots, an extra heavy-duty cabinet and a standard 36" fence. Prices begin at $2,199.
The new 10-hp, 3-phase, 14″ sliding table saw from Grizzly Industrial (model G0853) is listed at $12,500. lt has digital controls for main blade tilt from 0-45 degrees, and speed settings at 3,000, 4,000. and 5,000 rpm for various materials and thicknesses. There are also controls for the scoring blade alignment and ripping, thanks to a very accurate motorized fence that can reduce set-up time and cut list errors. The G0853 also has dual operation stations, which allows the operator to be on the rip fence side of the table or take advantage of the full 126″ of crosscutting space. lt will rip to 51-1/4", and the sliding table handles 126″ x 126″. The saw has a 4″ depth of cut at 90 degrees and 2-3/4″ at 45 degrees (with a 14" blade, but the 1″ arbor will also accommodate a 12″ one). The table size is 59″ x 68″ with the included extension wings. There's an adjustable blade guard, a riving knife/spreader, and both 4" and 5″ dust ports.
Woodstock international offers a hybrid table saw, three cabinet saws and a 10″ slid­er, the W1811, which has a scoring blade, 63″ crosscut capacity, riving knife and blade guard with integral dust port.
MARTIN Woodworking Machines in Charlotte, N.C. offers five industrial sliding table saws under its own brand, and three Robland models (one of which is a combination ma­chine). The top end Martin T75 PreX combines a cutting height of more than 200 mm (7.87″) with a swiveling range of 2 x 46 degrees, which the company says is the first time that has been offered anywhere in the world.
Currently scheduled for an April release, the new HWl10S-36 from Harvey Industries in Montreal, Calif. is listed at $2,995. lt offers 36″ rip capacity right of the blade, and there's a 52″ model that's listed at $3,195. Both saws have a 4 hp, 230-volt, single-phase motor. Named the Alpha Series, these are industrial grade, premium table saws with a 31-1/2" extra-deep cast iron table for increased safety, and permanent PVD coating of the entire table with Titanium Nitride (TiN) for rust preven­tion and less friction. There's a newly developed blade guard and a unique dovetail-style cast iron trunnion system for much smoother and more stable operation. There's also both upper (blade guard) and lower (shroud) dust control Both models come with Harvey's in­novative Compass miter gauge and an oversized T-square fence system with dual posi­tion viewers for the high/low fence.
Speaking of fences, the L5 No Lock Air Lock fence from Northtech Machine in Borden, lnd. took home a Visionary New Product Award at AWFS last summer. The company says it's the quickest and easiest fence on the market because it eliminates the need for hand wheels and manual locks. A woodworker simply plac­es a hand on the fence to disengage the auto lock, moves it into position, and then removes his/her hand to lock it into the new location. Northtech says that it can be fitted to almost any brand of straight-line rip saw or table saw.
Oliver Machinery in Kent, Wash. offers its Heritage collection for small shops and hob­byists, which includes a 10″ jobsite table saw with a folding stand. The company (which may sound familiar as it has been an industry leader since 1890), also manufactures four heavy-duty table saws that range from a 10" model at $1,499 to 12″ and 16″ saws. The latter starts at $5,299.
Stiles Machinery offers three models in the lronwood line of sliding table saws, the SL100, SL200 and SL300. They have aircraft-grade aluminum sliding tables that are manufactured in Europe and deliver extremely smooth and precise movement that reduces Operator fatigue and is totally maintenance free. Chrome hardened guide rails make sure the sliding carriage has no lateral movement. The SL300 offers a 51″ rip capacity, 7.5-hp motor, three blade speeds, and a scoring blade with a separate 1-hp motor.